With a recent update to Steam, Steam Achievement Manager was broken again due to a change in the Steam API which requires a valid application ID in order to initialize the API. I've redone Steam Achievement Manager from scratch (well, reusing the older code in a new project) to reorganize it into a functional state again. There's been a good amount of changes since 3.1, that include, but not limited to:
The game picker now downloads a list of games that have achievements from my site which allows me to update the list of games without having to release a new version.
The game picker downloads game logo images from the Steam website, and it looks pretty snazzy.
It's been broken up into two executables, SAM.Picker.exe and SAM.Game.exe, Picker is what lists and allows you to select a game, when a game is selected (double-clicked), it launches Game which allows you to alter the state of your achievements.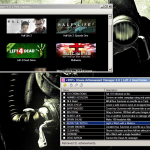 Lots of good changes. You can download the new version of Steam Achievement Manager on its page.
Also, new games listed as of 4.0:
Bullet Candy
D.I.P.R.I.P. Warm Up
Galactic Bowling
Gravitron 2
Left 4 Dead Demo
Mr. Robot
Penny Arcade Adventures: On the Rain-Slick Precipice of Darkness, Episode Two
Space Trader
Spectraball
Starscape
Tank Universal
World of Goo
Tags: Tools